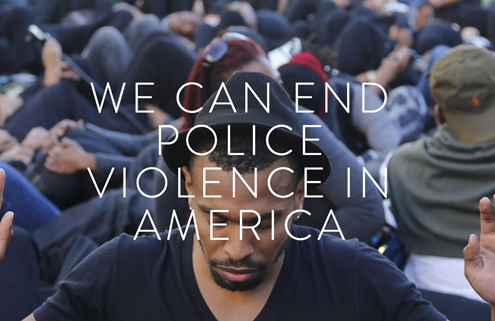 with Daniel Orlansky and Fez Aswat
On Wed. 6/24 we had a special class to benefit Campaign Zero taught by Fez Aswat and Daniel Orlansky. We are continuing to raise funds for Campaign Zero through Tues. 6/30. As part of your donation, you will have access to a recording of the class. Thanks for your support.
Campaign Zero is a police reform campaign developed in 2015 by Black Lives Matter activists and launched by "We the Protestors" to address police killings, excessive force, profiling and racial discrimination and other law enforcement concerns. The campaign consists of 10 proposals aimed at ending police violence in America and advocates for change at every level of government: local, state, and federal.
Join: joincampaignzero.org
Campaign Zero states: "We CAN live in a world where the police don't kill people, by limiting police interventions, improving community interactions and ensuring accountability. We CAN live in a world where systems and structures do good, not harm."
As individuals we are not separate, we are part of many systems and structures – we are accountable and have the responsibility to create, support and sustain systems that serve the greater good and dismantle those that do harm. We can do this, we have to do this and it will take all of us!
On Wed. 6/24 we had an Online Benefit class where we came together as individuals in community to raise awareness and to support the work of Campaign Zero & Black Lives Matter. Fez & Daniel taught a class combining the power of the breath and meditation.
Class started with 30 minutes of pranayama with Daniel and transitioned to 30 minutes of guided meditation with Fez. It was a great, inspiring and reflective class and, with your contribution, you will have access to a recording of this class.

Suggested Donation is $20 – all proceeds go to Campaign Zero or $25/includes Rainbow Peace flag ($20 goes to Campaign Zero and $5 to Rainbow Peace Flag Project)
As part of your $25 donation you will receive a Rainbow Peace flag. This flag includes all colors and the word PEACE is now in black lettering in solidarity with Black Lives Matter. You may have seen these flags hanging in your community and you can now help raise awareness by hanging this flag at your home.
We hope you will join us to bring greater awareness to each other and our community, to stand up for the end of violence and discrimination of all kinds, and to lift up the spirit and mind of the world.
Flags can be picked up at:
Laughing Dog Yoga Studio 159 Linden St. Wellesley
Stepping Stone Wellness 316 Washington St. Natick
Natick Spiritual Center 13 Common St. Natick