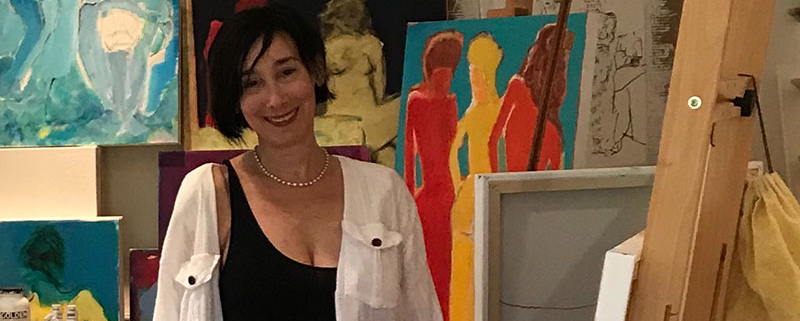 with Artist Robin Okun
Join us for our Love Your Body Opening Event on Mon. April 1, 7-8:30p. We are showcasing the powerful and beautiful artwork of local artist, Robin Okun (see bio and artist statement below).
Please RSVP info@ldyoga.com 781-235-YOGA (9642) so we can get a headcount for refreshments.
This will be a chance to meet workshop/class presenters and hear what they will be offering throughout April & May. Robin O. will give a brief Artist's Talk, that includes a somatic experience in relation to her paintings.
About Robin
Robin has devoted her life to mind body healing as a psychotherapist, movement therapist, NIA instructor, and now visual artist. Robin's colorful paintings reflect her sensitivity to the complex issues and feelings of body image. Her work is in private collections across the United States and in nationally curated UGallery. Her work can be seen at www.robinokunstudio.com and in her Brookline studio by appointment.
Quotes from people responding to Robin's work:
"As a woman, Robin's paintings make me feel at home in my body." Nikki Davis, MA,Newton, MA.
"Robin's artwork moves my soul in a way that words cannot reach. I find myself embracing and accepting my own body more profoundly after exposure to her beautiful paintings." Jacquelyn Ekern, MS, LPC, President, Eating Disorder Hope & Addiction Hope, Redmond, Oregon.
Artist Statement:
The female form is my recurring theme. My connection to my own body is my instrument. Color is my portal to creativity.
The figures in my paintings vary by size, gesture, color, and relationship. I intentionally make the bodies perfectly imperfect, asserting an expression of body diversity and inclusiveness.
Layers of acrylic paint and charcoal mirror the histories every body carries. These layers are often seen in the paintings and reflect the process of selectively revealing ourselves and hiding parts that feel shameful or embarrassing.
When I am moved by color or gesture there are striking shifts in the sensations of my body that activate creativity. This process surfaces only when I trust myself enough to detach from my internal critical voices. During these moments it's as if I embody a life force bigger than myself; something beyond words or explanation.